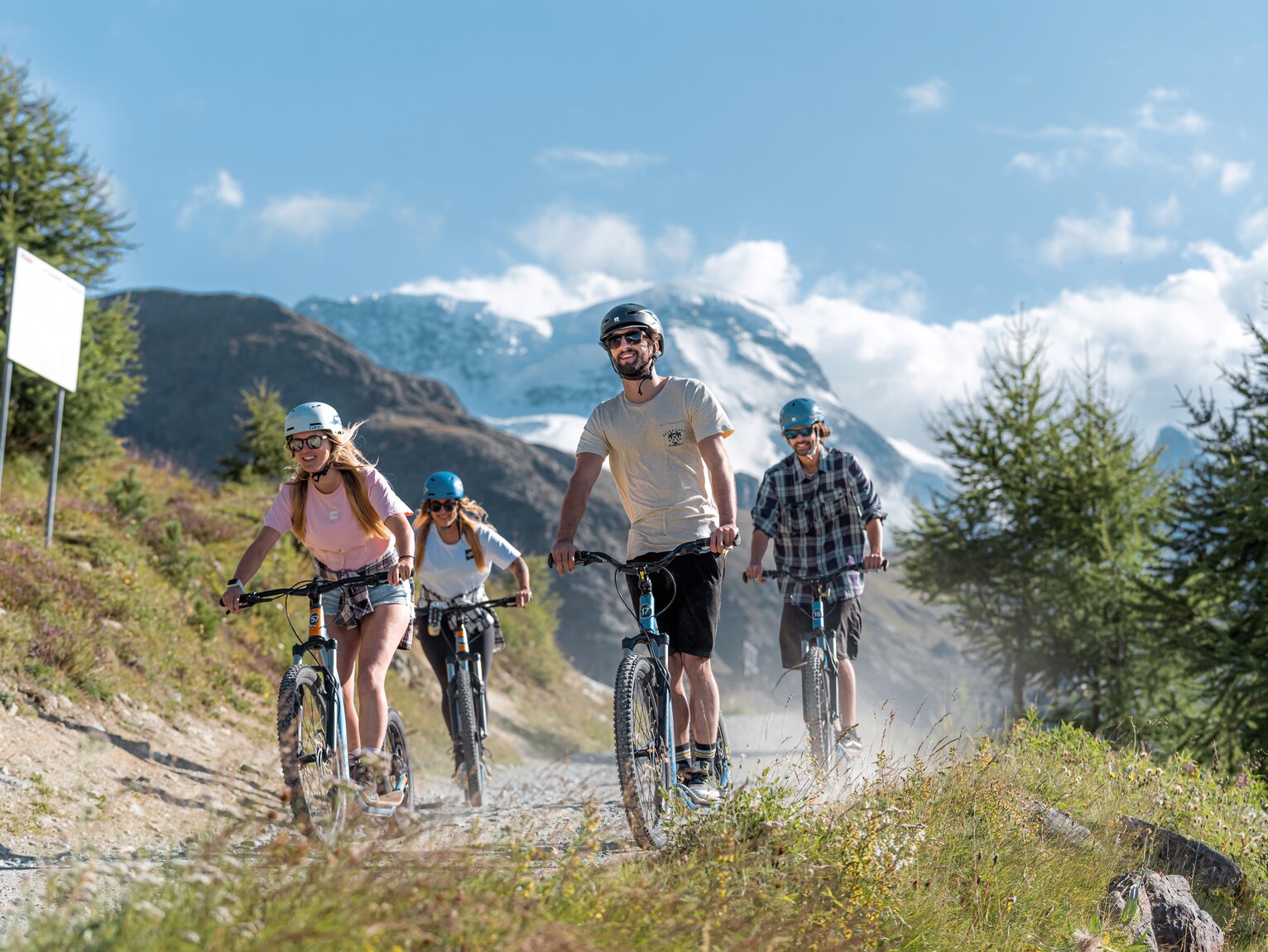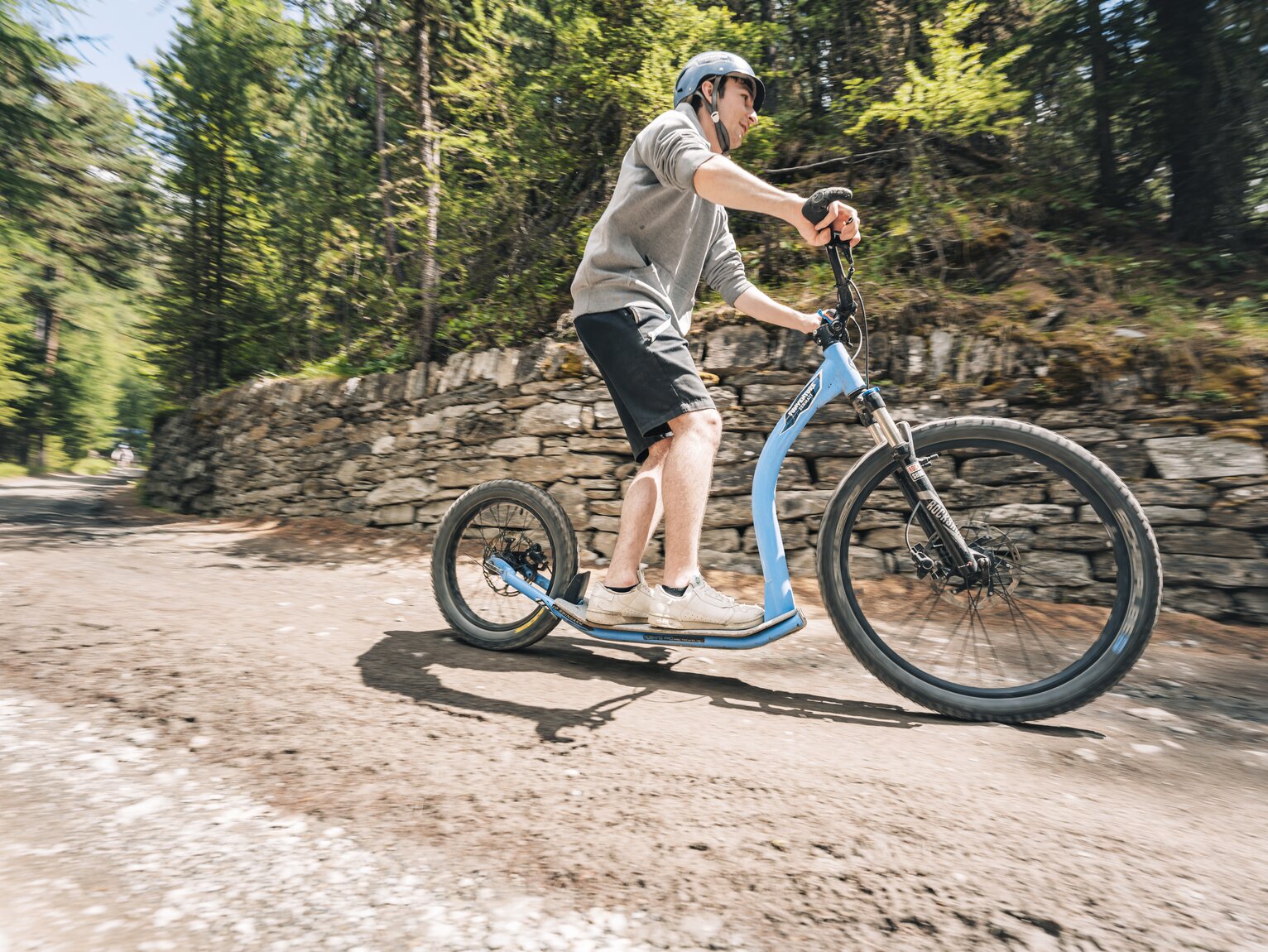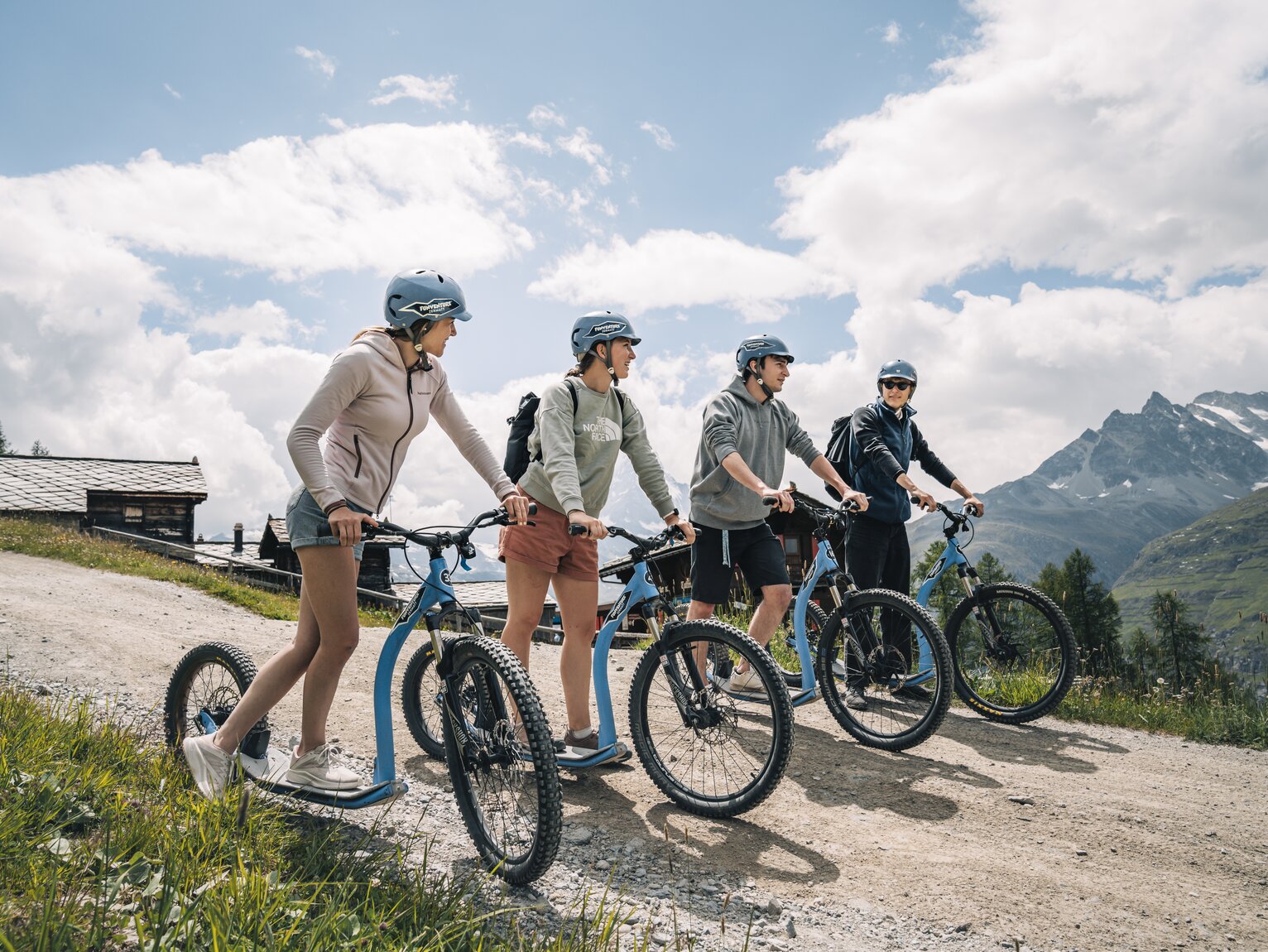 Fun for young and old
Kickbiking from Sunnegga
Unfortunately, the adventure offer you are looking for is not bookable at the moment. We will gladly send you an e-mail as soon as booking is possible again.
Notification
Book early and save

without queuing into the mountains

Secure online shopping
Description
If you've never heard of kickbiking before you definitely need to book a trip to Zermatt! Take the chance to experience the ultimate downhill action on Sunnegga for young and old alike: get together with friends or family for a race down into the valley on special off-road scooters. The thrilling descent is a fun-filled adventure for people of all ages.
How does it work? Hire your kickbikes (including helmets) directly from the Sunnegga mountain station in Zermatt. A descent covering a drop of 821 metres in altitude lies ahead of you on Zermatt's very own sun terrace. Up for it?
Ready, steady, fun!
Helmets on and off you go for what must surely be the most enjoyable descent in Zermatt. Past the idyllic hamlet of Tuftern with its old wooden huts and on into the shade of the forest of Swiss pine and larch. After that the real descent begins, so be ready with your hand on the brake as you zig-zag down towards Zermatt, heading in the direction of the Matterhorn.
Need a pit stop? Along the way, Othmar's Skihütte and the Tuftern and Ried restaurants are inviting places to stop and refuel. Or have a look into Cervo restaurant just at the end of the road. Hand your bikes back in when you reach the Sunnegga-Rothorn valley station. There's only one question left: who will you take with you next time you go kickbiking?
Included
Rental kickbike
Safety equipment (helmet)
Lift ticket not included!
Prices & reduction
CHF 18.00

CHF 9.00

Family

(2 adults + 2 children up to 15.99 years)

CHF 45.00

Additional child

(for the family rate)

CHF 6.00
Suitable for children over 9 years of age and 1.35 m tall.
More information
The kickbikes will be handed out from 10 a.m. until 90 minutes before the last ascent from Zermatt to Sunnegga.
Questions & answers
There are different reductions depending on the experiences. You can find this information for each offer under "Prices". In most cases, however, there is a discount for children unter 16 years and for half-fare/GA holders*.
*The reduced price, if available, also applies if you have a Swiss Travel Pass or if you have already purchased a Peak Pass.
When buying an experience, you will receive a binding booking confirmation. You use this confirmation, i.e. the booking code contained therein (voucher), to redeem the service you have booked.