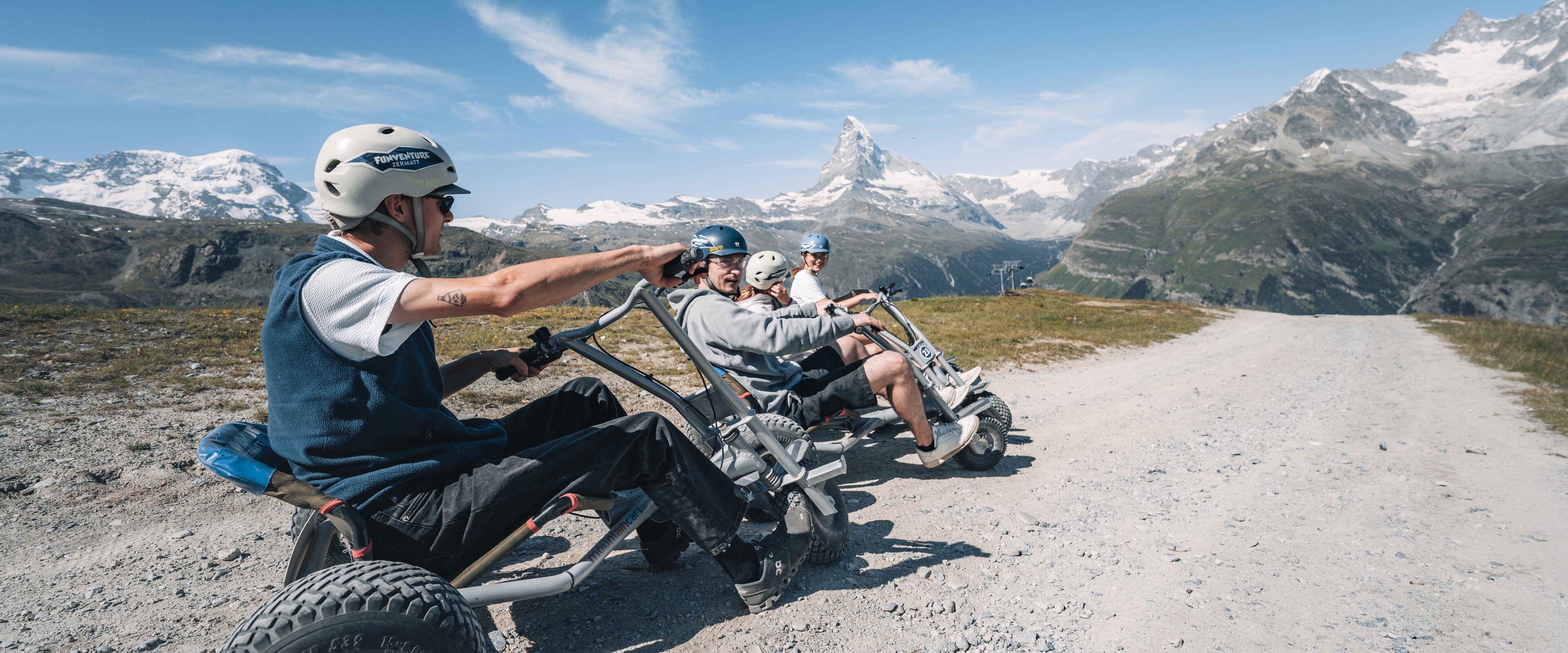 Fun for all the family
Fun & Adventure
Adventure, fun and games for young and old in the Matterhorn Paradise. Activities in the midst of Zermatt's enthralling Alpine landscape – among forests, imposing peaks, babbling brooks and cool mountain lakes, fun for the whole family is guaranteed. With mountain cart rides, kickbiking and Wolli's Fun Park, everyone is sure to discover their own favourite adventure. The fun factor is assured, whether you're with friends or family.
A summer race through the mountains of Zermatt
Mountaincarts
Scooting down the slopes on a mountain cart under the eye of the Matterhorn: with the sun on your face and a dust cloud at your back, it's an experience not to be missed while you're in Zermatt. The trail from Blauherd to Sunnegga covers a total descent of almost 300 metres and provides countless moments of action and fun.
Fun for young and old
Kickbiking on Sunnegga
If you've never heard of kickbiking it really is time to visit Zermatt. The ultimate in downhill action for young and old awaits on Sunnegga, featuring special off-road scooters. With the amazing Alpine backdrop of Zermatt's peaks always in view, feel the wind in your hair as you race down into the village. The thrilling descent is a fun-filled adventure for thrill-seekers of all ages.
Traumhafte Kulissen, wie für Leinwände geschaffen
Einzigartige Fotopoints
Wolli - Erlebnispark im Matterhorn Paradise
More adventures in Zermatt
The Matterhorn Paradise has even more to offer – everything from spectacular activities in the Zermatt mountains to the peaks of culinary enjoyment and record high levels of performance. The charms of Zermatt and its breathtaking mountain scenery and natural landscapes have captivated many a visitor.