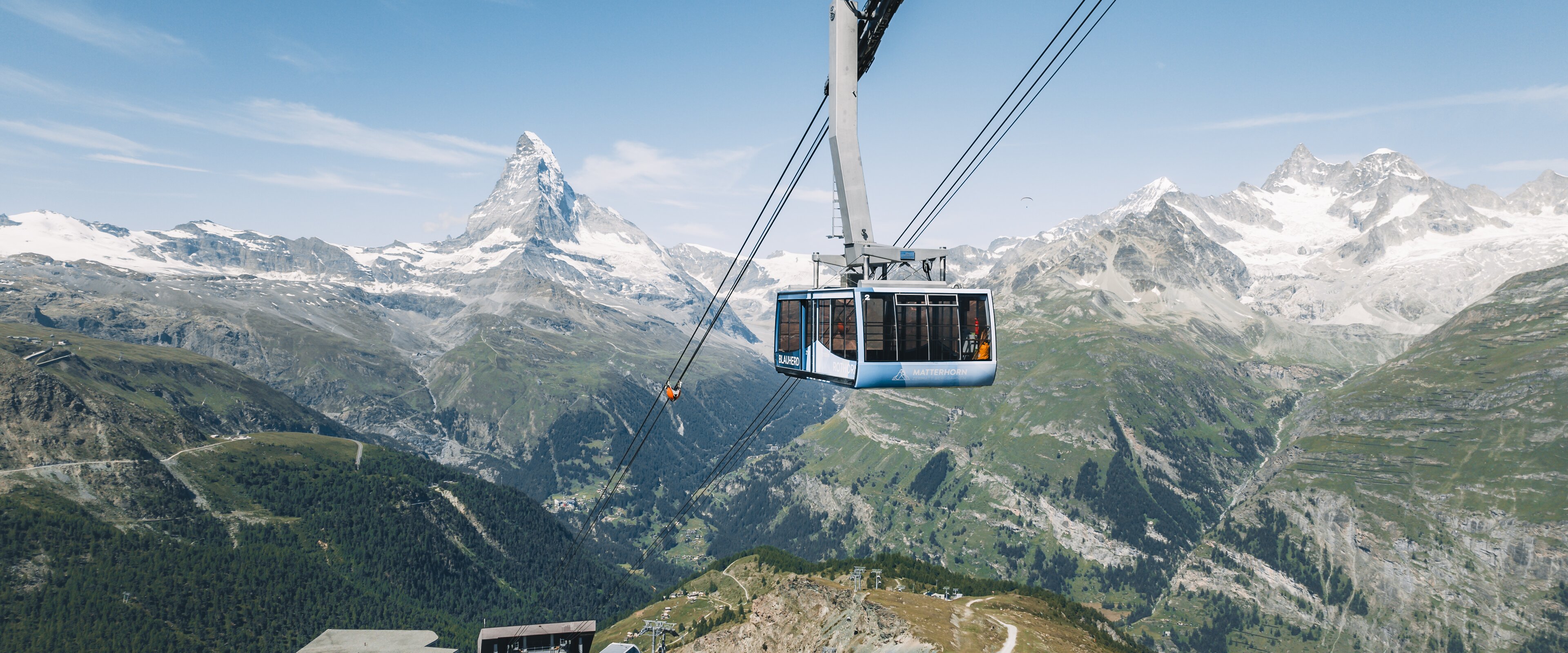 Discover the most photogenic side of the Matterhorn at over 3000 m above sea level
Rothorn
The view from the Rothorn is sensational. As the locals will confirm, this is the Matterhorn at its most photogenic. All the surrounding mountains strike stunning poses as well, with one four-thousander after another combining to form a very special panorama. In addition to affording spectacular views, the Rothorn is also the perfect place for a number of activities, including hiking and mountain biking in the summer and snowshoe hiking and skiing in the winter.
Activities on the Rothorn
In summer, the Rothorn becomes a paradise for hiking, mountain biking and exploring the Alpine landscape. Summer on the Rothorn holds the promise of unforgettable discoveries, but in the winter the peak is an outstanding ski area and serves as the starting point for excellent runs in the Matterhorn Ski Paradise.
Highlights at 3103 m above sea level.
The Rothorn's superb views make it well worth a visit throughout the year, with a stunning panorama taking in the surrounding mountains and the valley. The beautiful natural setting of the Rothorn makes it the perfect place to experience the Zermatt mountains at any time of year.

Fresh mountain air, lush pastures, boundless freedom: everyone who has ever visited the Matterhorn Paradise in the summer knows the feeling. The Rothorn is wonderful hiking territory. From the highest hiking trail in Europe to artistically devised themed walks, there's something for everyone. In the winter, the Matterhorn Ski Paradise offers adrenaline-fuelled adventures with high-speed downhill runs against a breathtaking mountain backdrop, covering an elevation change of over 1400 metres.
The right tickets for the Rothorn
The Rothorn has an imposing and majestic presence and offers amazing views over the Alpine landscape. The journey up to the top is an experience in itself. Once there, you've reached the ideal starting point for hiking or skiing down through the unspoiled natural surroundings.
A single ticket to the Rothorn will guarantee access to the breathtaking vista from the mountain top. Alternatively, the Peak Pass allows you to enjoy a more varied experience in Zermatt, with unlimited trips and a flexible choice of days.