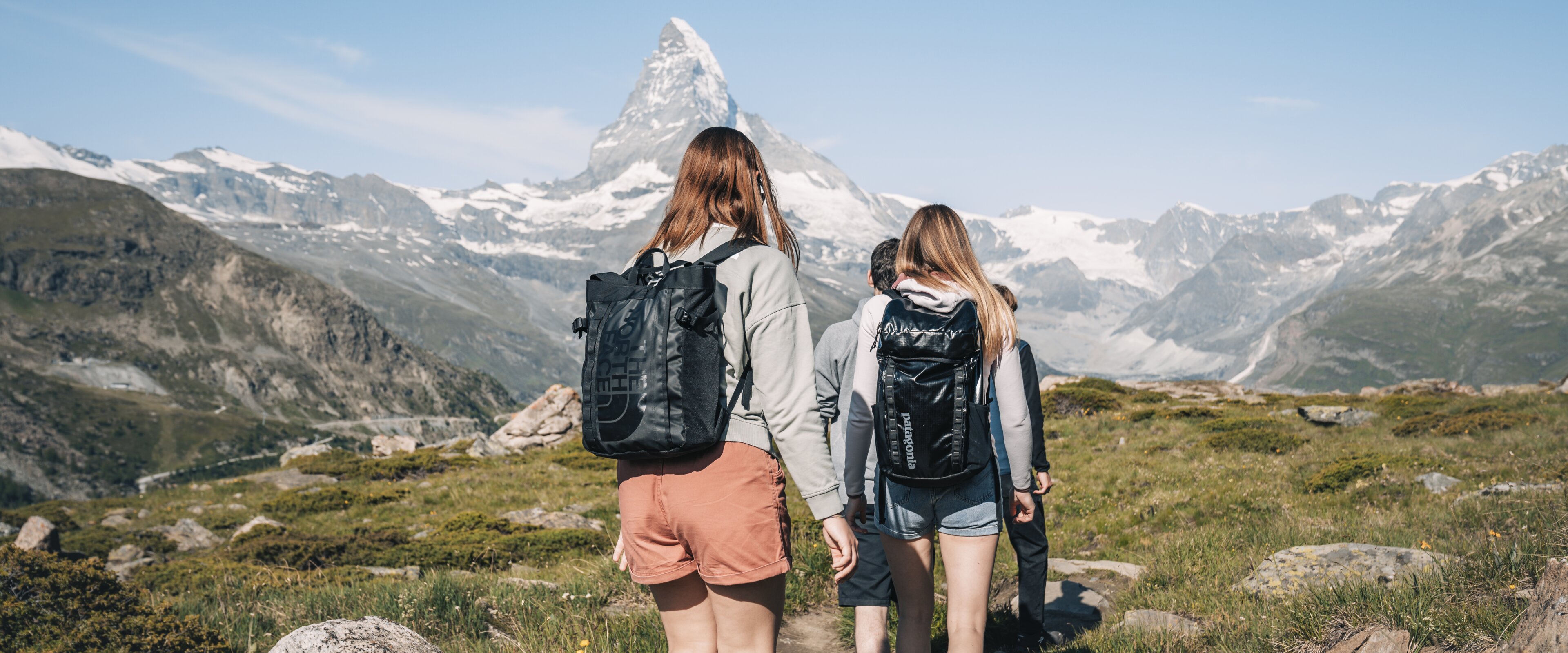 From Zermatt's Alpine meadows to the highest peaks
Hiking, mountaineering and rock climbing in Zermatt
Beautiful walks among babbling mountain streams, flowering meadows and dense pine and larch forests, all set against a stunning mountain backdrop: hiking in Zermatt is an experience to rouse all your senses and stir your emotions. There are 400 km of trails and paths in all, each with their own unmistakable and unique character. With leisurely family walks, challenging high-altitude mountain tours or dizzying Alpine passages – the mountains around Zermatt have everything you could wish for. And the Matterhorn will always strike the perfect pose for a photo, whichever angle you look at it from.
Hiking in the Matterhorn Summer Paradise
All about hiking
You'll be amazed by what you can see on the hiking trails around Zermatt – from rugged mountain landscapes close to the Matterhorn to rare flowers by the side of the path and wildlife in their natural environment. Perfect backgrounds for photos are guaranteed in the breathtaking mountain scenery. Nature in Zermatt's Alpine world is full of surprises. Hiking in Zermatt is something everyone can enjoy: walkers eager to learn, inquisitive families, and day trippers in search of new experiences should all prepare to be enthralled. The Matterhorn Summer Paradise offers a wide variety of hiking trails and there is an extensive network of routes in the Zermatt area. Many starting points can be easily accessed by lift. Zermatt Bergbahnen makes it possible to reach altitudes above 3000 metres in comfort.
Amount of sunshine per year
For pleasure-seekers, adventurers and fans of Zermatt
Our top themed hiking trails
Family hikes
The Matterhorn Summer Paradise is a place to forge family memories which will stay with you long after you return home. This hike is almost over before it's begun, as the children become completely absorbed in the many opportunities for play and discovery. The grown-ups will also be captivated by the amazing surroundings. Zermatt is a hiking paradise for the whole family.
Hiking highlights and tips
Zermatt has so much to offer. Enjoy magical moments in the midst of Zermatt's Alpine landscape or combine activities from the huge choice available. Take a walking holiday in Zermatt and open up an almost endless variety of unforgettable experiences. Here is a list of some of the highlights and tips from Zermatt Bergbahnen.
Mountaineering and rock climbing
If you want the thrill of exploring the high-Alpine world above Zermatt and you're not a professional mountaineer, you'll need someone by your side you can rely on. You need look no further than ZERMATTERS (formerly Alpin Center Zermatt) – your local partner for hiring mountain guides. What does ZERMATTERS offer?
A warm welcome since 1988
Insider tips and local knowledge going back over generations
Real Zermatt experiences as seen by local people
Love of their Zermatt home
Focus on adventure
Specialists in all areas