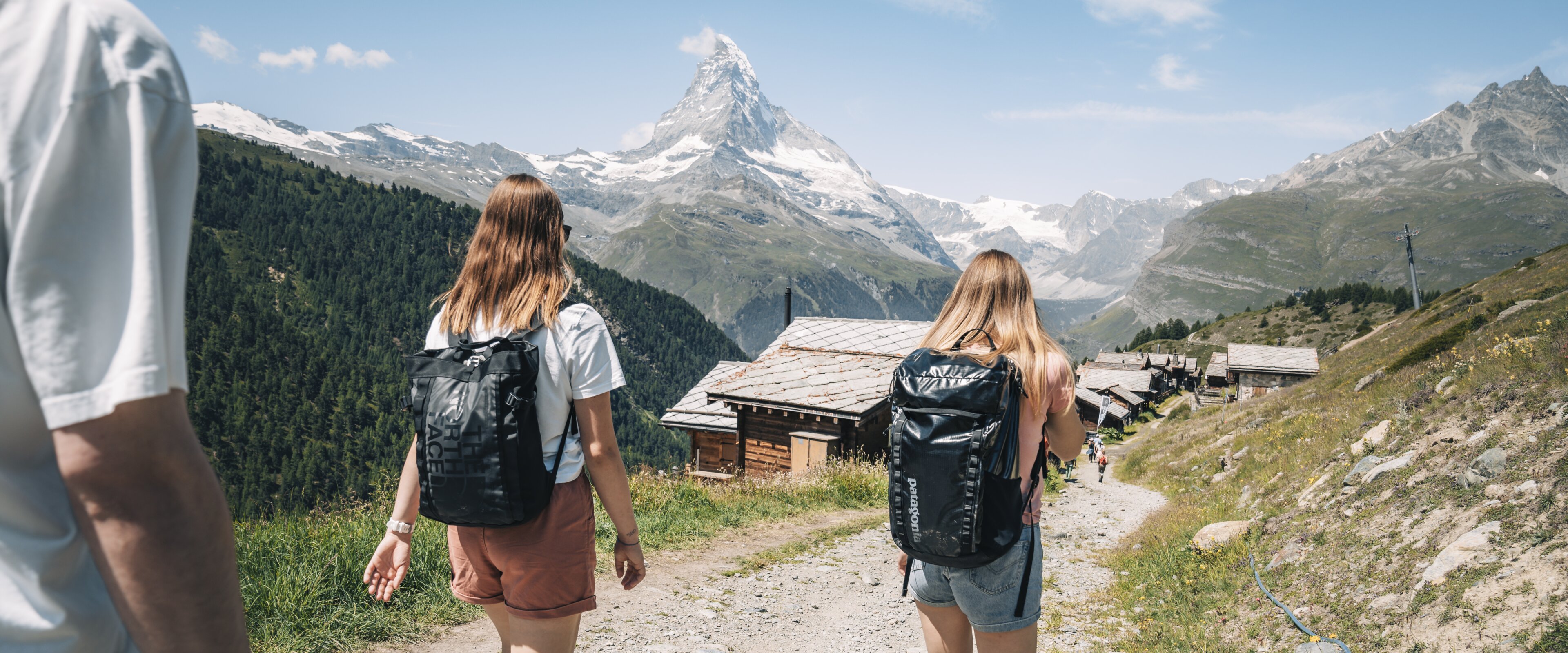 Hiking and culinary delights
Gourmet Trail
Up on the welcoming summer terraces with amazing views of the Matterhorn you can enjoy the best of the Zermatt gastro scene together with the best of the Matterhorn. Surrounded by nature, with stunning views of the Matterhorn and mouth-watering culinary delights – it's a gourmet's dream come true!
Route: Sunnegga – Findeln - Patroullarve - Ried - Zermatt
Best time of year: July – October
Participating restaurants: Restaurant Sunnegga, Restaurant Paradies, Restaurant Chez Vrony, Restaurant Findlerhof, Restaurant Adler Hitta, Othmar's Skihütte, Restaurant Ried
On the Gourmet Trail from Sunnegga, the sun terrace of Zermatt, via the idyllic hamlet of Findeln to Ried with its superb views, this relatively easy walk takes you past Leisee lake and across Alpine meadows to Zermatt. During the walk it's not only a good idea to stop off at a variety of mountain restaurants – it's compulsory! The restaurants in the hamlet of Findeln collectively boast 42 Gault Millau points.
The Gourmet Pass is for anyone who would like to go on a walk where the main focus is on Gault Millau points. The Findeln Gourmet Pass is the perfect summer companion. Along with the single ticket from Zermatt – Sunnegga it includes a culinary journey with a four-course menu.
Das Richitge Ticket Finden 
Haute cuisine on the mountain and right next to the path.

Our tip for the Gourmet Trail
Numerous restaurants await discovery along the route from Sunnegga and Findeln to Ried. The best ticket for this trip is a single to Sunnegga.

If you like your creature comforts and wish to focus on the culinary aspects of your hike you should opt straightaway for the Gourmet Pass. A gastronomic tour including four-course menu awaits. One course is served in each of the restaurants selected. The perfect way to enjoy a hike.