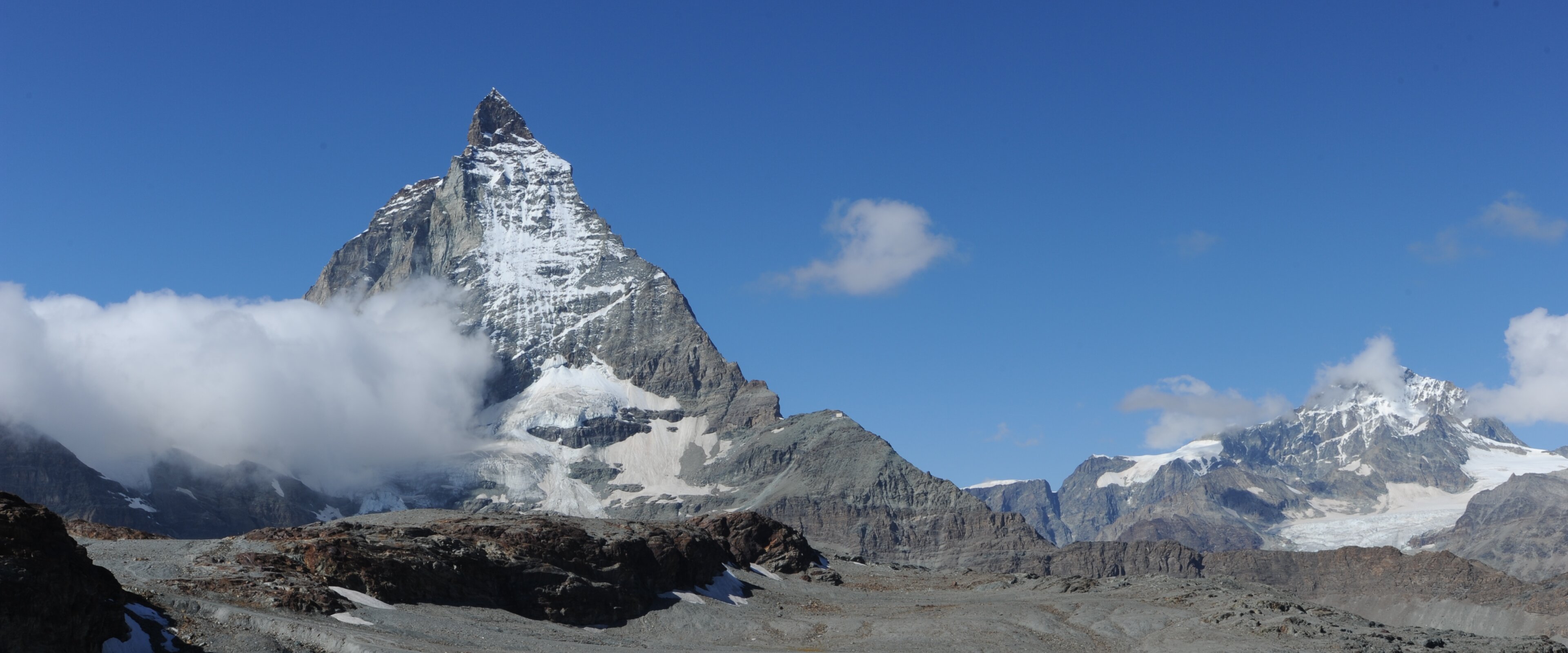 Hiking between rock and ice
Matterhorn Glacier Trail 
It smells of snow, ice, rock, water and the purest mountain air. Not many people can claim to have hiked along a glacier. The Matterhorn Glacier Trail provides an insight into the different stages of glacial retreat. It reveals what the glacier left behind as it disappeared, the glacier's legacy in turn creating extraordinary conditions for flora and fauna. Every now and then you can feel the wind coming down from the glacier, a cold kiss from the eternal ice.
Auf der spur des Furggletschers
Route: Trockener Steg – Hirli – Schwarzsee
Best time of year:
Summer: June – September
Winter: December – April with qualified mountain guide

The route takes you from Trockener Steg to Schwarzsee lake and is one of the more demanding trails in the Zermatt mountains. The 23 different stations along the way present interesting and curious facts and stories about the phenomenon of the glacier, and the Furg Glacier in particular. You will be accompanied by rock, ice and an amazing Alpine panorama with views of the Matterhorn.
The Matterhorn Glacier Trail in the winter
A snowshoe tour along the Matterhorn Glacier Trail is without a doubt one of the most beautiful experiences in the winter wonderland of Zermatt's Alpine world. It takes you from Trockener Steg (2939 m) to Schwarzsee (2583 m) in the company of a qualified mountain guide.
A pristine winter world, all is quiet, and a soft blanket of snow covers the ground. Caution: fairytale mountain scenery directly ahead!
Your tICKET FOR THE mATTERHORN gLACIER tRAIL
The hike along the Furg Glacier – rock, ice and the right ticket.
Our tip for the Matterhorn Glacier Trail
The perfect ticket for a day's hiking at the foot of the Matterhorn and along the Furg Glacier is the Kombi-Ticket. The ticket includes one trip from Zermatt to Trockener Steg and one from Schwarzsee to Zermatt.
If this is not the only destination on your itinerary and you have other walks and peaks planned for your stay in Zermatt, we recommend the Peak Pass. This offers unlimited trips on one or more days on the following routes: Zermatt - Matterhorn Glacier Paradise, Zermatt - Rothorn, Zermatt - Gornergrat and Furi - Riffelberg (as timetabled).