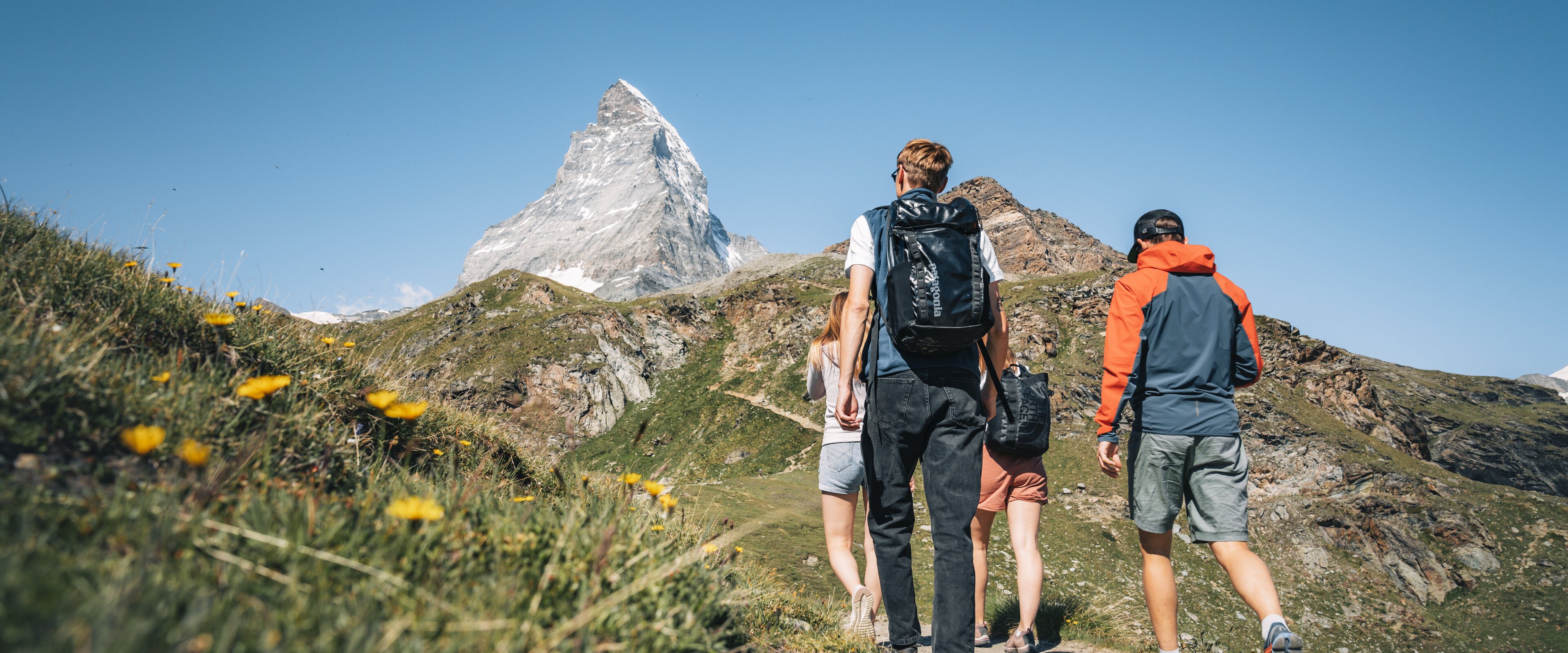 Hikes that leave you wanting more
Schwarzsee lake near Zermatt
"Our Lady of the Snow" chapel
Schwarzsee lies within easy reach thanks to Zermatt Bergbahnen. A wide range of activities can be enjoyed there whatever the season, from breathtaking hikes to exciting mountain bike trails and high-speed ski runs. Marvel at the views of the imposing north face of the Matterhorn and the famous Hörnlihütte restaurant, then set off for the nearby lake. Depending on the light, its waters can appear almost black in colour, creating a mood of mysticism and mystery.
Mysticism on Schwarzsee
Schwarzsee draws you so close to the myth of the Matterhorn that the mountain's special magic almost becomes tangible. A walk around the lake will leave you wanting more, whatever the season. The mysterious atmosphere that surrounds this place gives the whole experience an additional emotional charge.
Time to be amazed
Rugged mountain landscapes, majestic peaks and a refreshing wind. Adventures await at Schwarzsee. A variety of routes suggest themselves – choose the path to the Hörnlihütte, follow the glacier or head towards Stafelalp meadow. For mountain bike enthusiasts there are exciting tracks and trails waiting to be discovered. And skiers and snowboarders will love the high-speed runs at the very foot of the Matterhorn.
Schwarzsee
Our tip for the right ticket
A single ticket to Schwarzsee provides the opportunity to experience the imposing Matterhorn at close range. This place is a starting point for some of the most remarkable hiking routes in the region.
For further exciting experiences, the Peak Pass is available, opening the door to a whole host of different activities. The Peak Pass offers unlimited travel on the sections between Zermatt - Matterhorn Glacier Paradise, Zermatt - Rothorn, Zermatt - Gornergrat and Furi - Riffelberg (as timetabled). It enables you to explore the full extent of the stunning Alpine landscape.