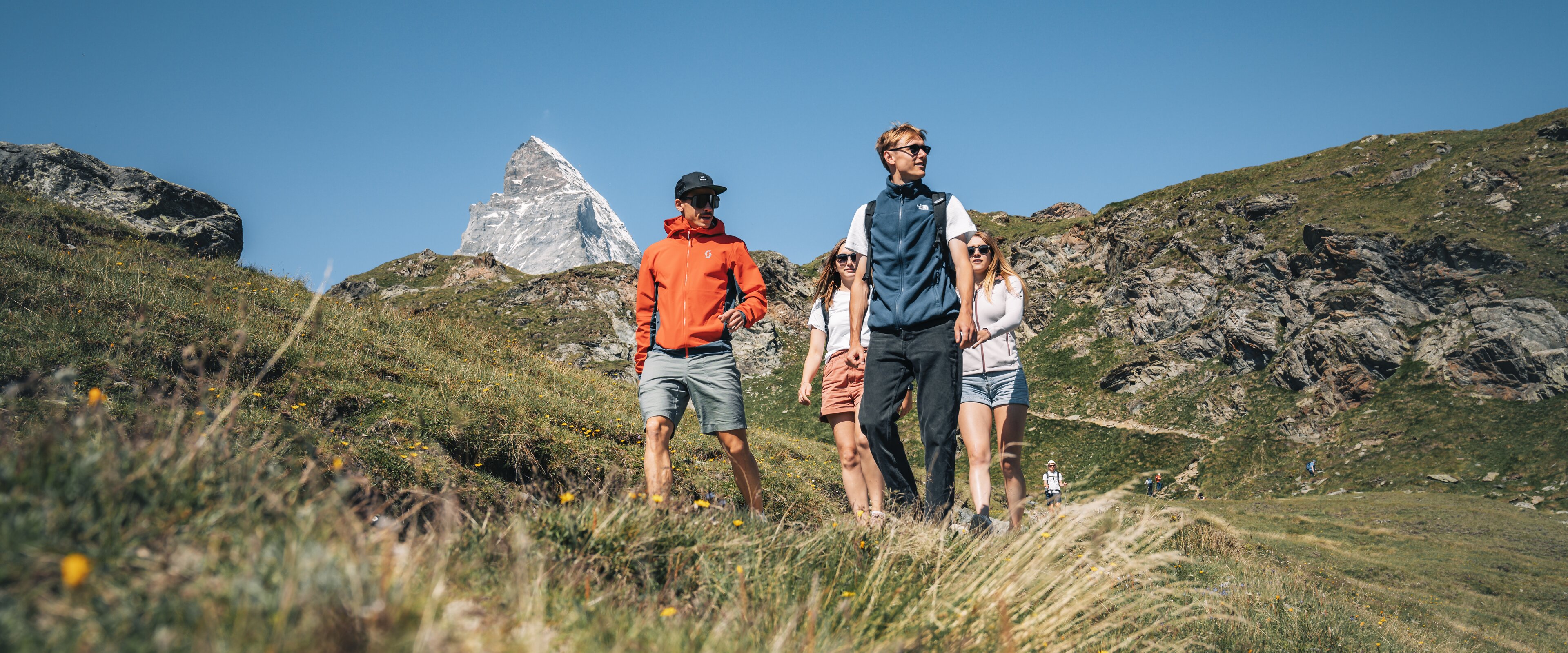 Reach out and touch the Matterhorn 
Hörnlihütte Trail
Nowhere is the sense of being up close to the legendary Matterhorn so powerful as at the Hörnlihütte. Perched at an altitude of 3260 metres above sea level, this is the gathering point for mountaineers who arrive from all corners of the world, full of confidence ahead of their assault on the mountain. Others visit the Hörnlihütte just to get a close-up flavour of the legend that is the Matterhorn, to enjoy the impressive Alpine panorama and sample some regional specialities.
Route: Schwarzsee – Hörnlihütte
Best time of year: July – August
This demanding hike begins at Schwarzsee lake and follows the panoramic ridge with its excellent views of the Mischabel group, the Matter Valley and the Dent Blanche. Walkers make their way up to the Hörnlihütte, passing Alpine plants and rugged rock and scree landscapes until the Matterhorn rises almost within touching distance, up close and personal.
Caution: This path has a difficulty rating of "Advanced" and is only recommended for experienced and correctly equipped climbers.
Find your Ticket
Up close to the Matterhorn. The closest starting point accessible by lift is Schwarzsee.

Our tip for the Hörnlihütte Trail
Head for the Matterhorn from Schwarzsee lake. For this hike, we recommend a single or return ticket to Schwarzsee. From Zermatt, take the Matterhorn Express up to 2552 metres above sea level. Then continue on foot.
If you haven't had your fill of the Zermatt adventure, why not visit one of our other peaks – in which case, the Peak Pass is ideal. This offers unlimited trips on one or more days on the following routes: Zermatt - Matterhorn Glacier Paradise, Zermatt - Rothorn, Zermatt - Gornergrat and Furi - Riffelberg (as timetabled).