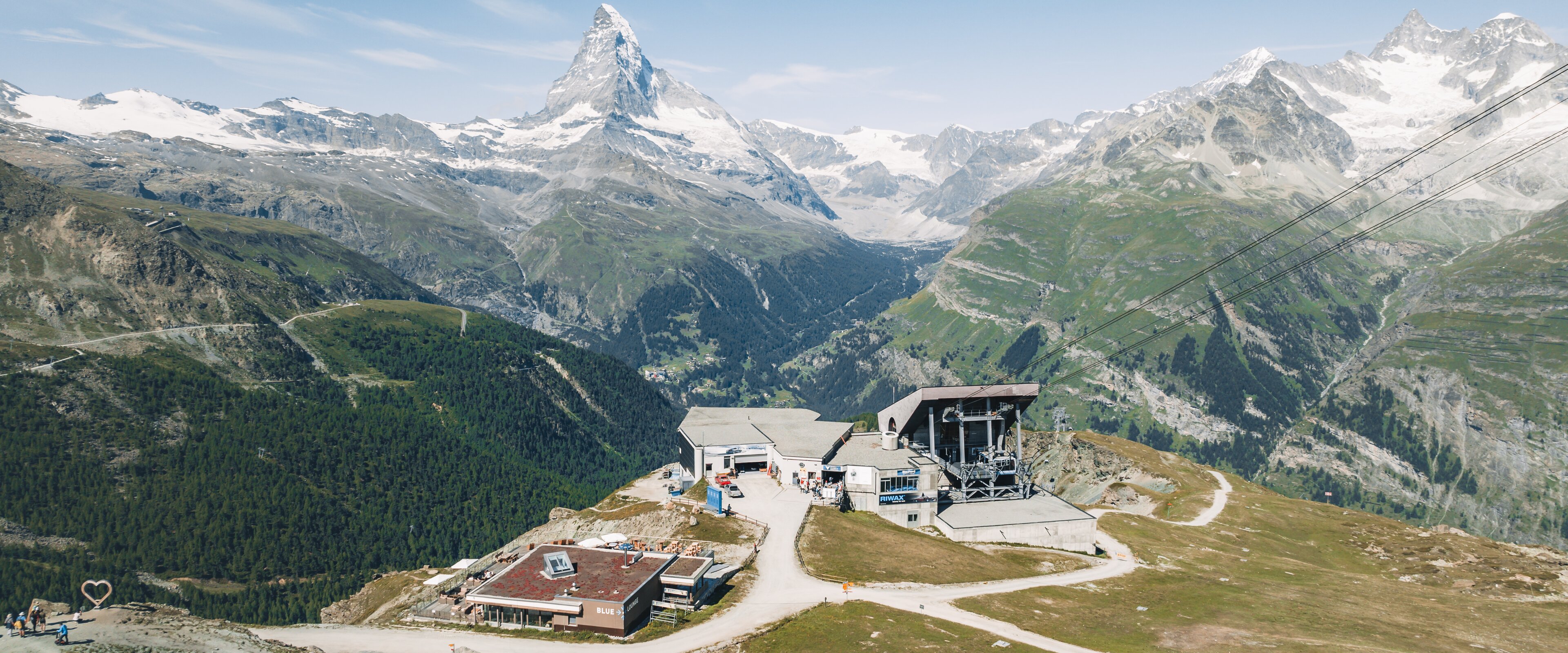 A wealth of experiences with a perfect view of the Matterhorn
Blauherd
The perfect adventure playground in the midst of the Swiss Alps is to be found on Blauherd above Zermatt. It lies at an altitude of about 2571 metres on a sunny plateau between the mountain stations of Sunnegga and Rothorn. The mountain peaks surrounding Zermatt, with the fascinating Matterhorn as the centrepiece of the spectacle, are majestic in their beauty.
Adventures on Blauherd
Blauherd is a peak for adventurous spirits. It Is home to marmots and the ideal starting point for walks to discover rare plant species. This is where you set off on the famous Five Lakes Trail. A distinctive wooden heart (Holzherz) invites you to take unforgettable souvenir photos. Thrill-seekers can hire mountain carts for the descent to the valley station.
Blauherd offers varied terrain for hiking, bike tours and skiing. The breathtaking views complete the picture of an adventure-packed visit to this peak and make Blauherd an unmissable outing for all visitors to Zermatt.
Everything round and about Blauherd
Whether you visit in bright summer sunshine or as part of a magical winter fairytale, Blauherd is the perfect place to begin your exploration of the majestic mountain world of Zermatt in all its glory.
In every season of the year, Blauherd offers a colourful palette of activities that are sure to make the hearts of nature-lovers and adventurers alike beat a little faster.
Choosing the right ticket for Blauherd
The world that opens up around the Blauherd peak is a realm in which nature and adventure are seamlessly joined. To secure the right ticket for your forthcoming trip to the enthralling mountain world of Zermatt, a number of options are open to you.
Single tickets offer the opportunity to see the magnificent landscape from new angles, while the Peak Pass offers unlimited access to the peaks. You can also purchase tickets for multiple journeys, which are especially well suited to exploring the themed hiking trails.