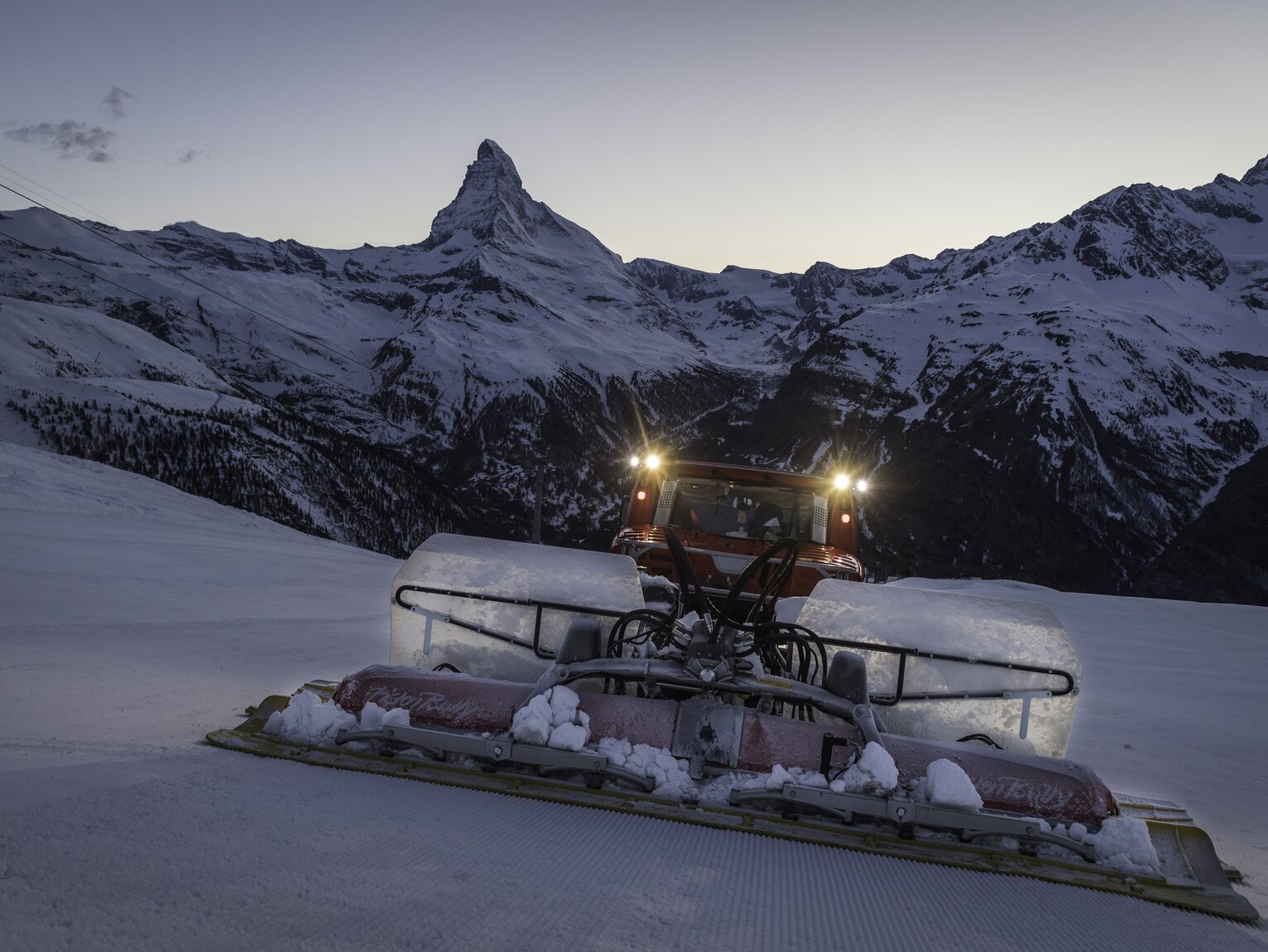 Work as adventure
Piste preparation
Book early and save

without queuing into the mountains

Secure online shopping
Description
Why are PistenBully drivers in the Matterhorn Ski Paradise nicknamed "heroes of the night"? Find out now. Watch one of the 23 heroes from close up on an exclusive ride in a PistenBully. The goal of the team is to prepare a total of 200 kilometres of piste to ensure that guests can have an unforgettable skiing experience every day.
What seems like an exclusive winter adventure to you is hard and painstaking work for the PistenBully drivers. Their working day begins when all the skiers and snowboarders have left the slopes. And you can join them live.
Everything under control!
From the co-driver's seat you will learn about this workplace with a difference: the PistenBully – with up to 490 horsepower and 11 tonnes each. Control column and joystick. How are the snow blower and plough controlled? What do the symbols on the display stand for? What do colleagues report on the radio? Good thing that your driver has everything under control.
To be a true hero of the night you have to know every curve, dip and obstacle like the back of your hand. Tasks you have to master: smoothing the piste, filling hollows, creating snow depots and finally drawing the characteristic groove pattern on the surface. And with that, the heroic deed is done.
Prices & reduction
Per person

(aged 16 or over)

CHF 150.00
Skipass/ticket not included.
More information
Places per PistenBully: 1 person
Bring your own food and drink, dress appropriately for the weather (cabs are heated).
The guest must be in possession of a valid ticket/ski pass.
The ride lasts until 8 / 8.30 p.m. In the Matterhorn Glacier Paradise area, you will be taken to Zermatt by PistenBully, in the Rothorn area you will take the funicular from Sunnegga to Zermatt and in the Gornergrat area you will take the cogwheel railway from Riffelberg.
Registration: up to 3 pm the day before
Duration: approx. 4 hours
Every Tuesday: meeting point garage on Trockener Steg
12.12.2023 - 05.03.2024: at 4.45 p.m.
12.03.2024 - 09.04.2024: at 5 p.m.
Every Wednesday: meeting point kiosk on Blauherd
13.12.2023 - 31.01.2024: at 4 p.m.
07.02.2024 - 10.04.2024: at 4.30 p.m.
Every Thursday: meeting point garage on Riffelberg
14.12.2023 - 07.03.2024: at 4 p.m.
14.03.2024 - 11.04.2024: at 4.30 p.m.
Questions & answers
There are different reductions depending on the experiences. You can find this information for each offer under "Prices". In most cases, however, there is a discount for children unter 16 years and for half-fare/GA holders*.
*The reduced price, if available, also applies if you have a Swiss Travel Pass or if you have already purchased a Peak Pass.
When buying an experience, you will receive a binding booking confirmation. You use this confirmation, i.e. the booking code contained therein (voucher), to redeem the service you have booked.