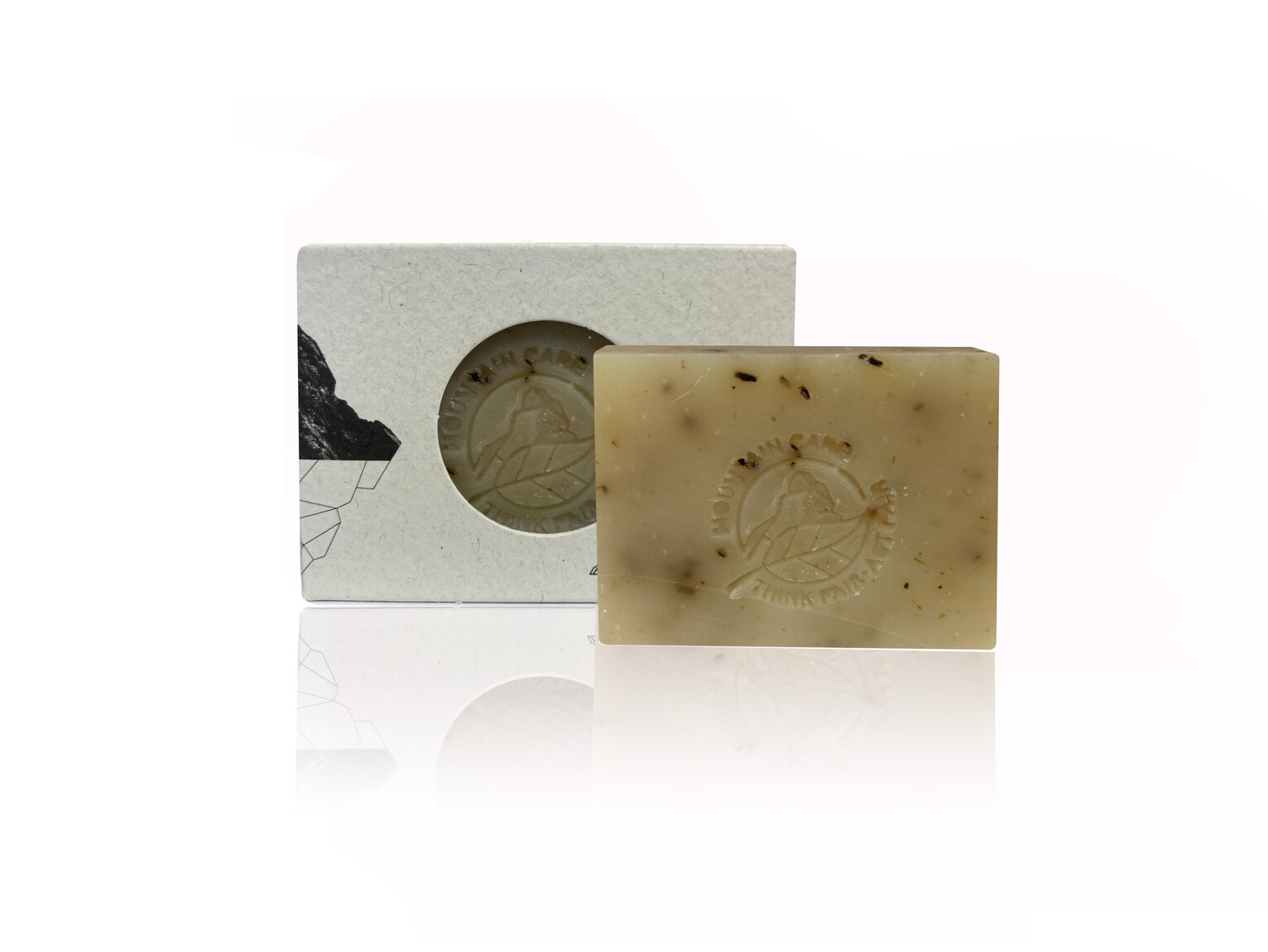 Memento | Mountain Care
Sheep's milk soap
Description
This soap is different from conventional soaps and shower gels. Primarily, the artisanal manufacturing process and cold saponification are responsible for this. Soap is created from the reaction of lye and oil. These basic ingredients are all of food quality and come from organic farming. The additional care component, sheep's milk, flatters the skin and protects it from drying out.
Swiss made
Compensation of CO2 emissions (climate protection project via ClimatePartner)
Ingredients: herbal sheep's milk, Sodium Cocoate* Helianthus Annus Oil* Shea Butter* Cocoa Butter* Lac Ovis* Lavender Oil, Lemon Oil, Peppermint Oil, Geranium Oil, Rosemary Oil, Thyme Oil, Palmarosa Oil, Sage Oil, Rosemary Leaves, Lavender Flowers, Coumarin** Citral** Citronellol** Farnesol** Geraniol** Limonene** Linalool**
* organic and sustainable products, ** essentail oil component
Durability

Replacement of disposables

Regional production
MOUNTAIN CARE. Think fair – act fair.
Sustainable development meets the needs of the present without compromising the ability of future generations to meet their own needs. For this reason, we are expanding our range with sustainable products. These products are labelled with the «MOUNTAIN CARE. THINK FAIR – ACT FAIR»-badge.
Questions & answers
Merchandise products are sent via Swiss Post AG. Delivery costs are charged to the expense of the purchaser and calculated according to weight and country. You can find the detailed prices in our booking conditions.
The average delivery time within Switzerland is 2–3 working days. Within Europe it is 3–5 working days and outside Europe 5–10 working days. Orders are processed and dispatched on weekdays from Monday to Friday.
Undamaged goods in their original packaging may be returned to ZBAG by post up to 30 days after receipt. To do so, a return form must be completed and enclosed with the return consignment. Delivery costs and payment charges are not generally reimbursed.
For hygienic reasons the following souvenirs are excluded from any exchange/returns:
all community masks
bandanas (with and without fleece)
Zermatt Bergbahnen AG
Online Shop
P.O. Box 378
CH-3920 Zermatt